Music » Concertos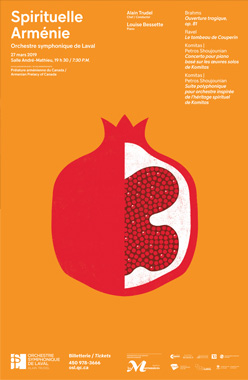 Laval Orchestra
Komitas 150

27 MARS 2019


Comité du Concert de la Prélature Arménienne du Canada
Louise Bessette, piano
Alain Trudel, conductor

Petros Shoujounian
Gumri, 1957


» Click here for more details.










---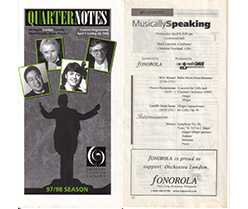 Cello concerto
Cello solo with string Orchestra


Listen to beginning of the first movement
Listen to beginning of the second movement

Composer's Note: Men and Nature. Man is part of Nature, but often he tries to pretend to be the owner of Nature, which is wrong. Man's curiosity never ends – that is part of his procreation and evolution.There is an unresolved tension. This concerto is in two movements. The first movement is about Man (cello) imposing himself and trying to establish control over Nature (orchestra). A prolonged struggle between an imposing and stressful cello score and an equally emphatic response from the orchestra, which is fighting back not to relinquish its existing role as the owner of the universe. The second movement is the opposite picture where Nature proves its existing power and controls everything, including Man. The theme is reversed: The cello was playing all the leading elements in the first movement, whereas now the orchestra is leading the cello.
---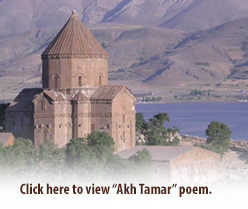 Akh Tamar (1984)
Performer: Bruce Bower Bassoon solo , CBC orchestra Montreal, conductor: Raffi Armenian
Listen to first minute of the Track

Composer's note: Concerto for bassoon, double wind orchestras and two percussions. A serial work in 12 tones. The bassoon is the main narrator of the legend and the orchestra describes the scene. Very tense music, non-stop work in a single movement. It could be choreographed as a modern ballet. Tension is heightened by working with double instrumentation. Please read the story first – it helps you to appreciate the music better.
---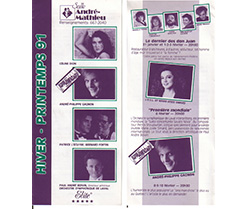 Sayat Nova
Suite concertante: Sayat Nova. For percussion solo and orchestra
Cadenza of the first movement

Composer's note: This work was commissioned by well known Quebec percussionist Marie-Josée Simard. We worked together create an interesting composition.


A major issue was to keep the percussion instruments within their own character. Plus we were searching for melodious and meditative themes that would fit in comfortably. We pushed the performing technique to extreme difficulty to show more of the beauty of the instruments and the performers' capacity.


Why Sayat Nova? I wanted to introduce the great 18th century musician, and the use of three of his songs made this a song without words. Orchestra score is very charged, too, with lots of dialogues between soloists.


Three instruments for soloist are:
Marimba for the first movement
Vibraphone for the second movement
Xylophone for the third movement





Music