Music » Concertos » Spirituelle Arménie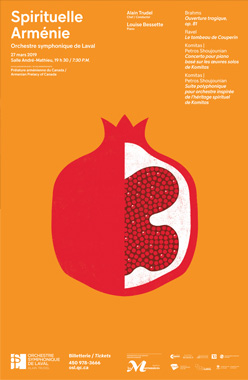 Spirituelle Arménie
27 MARS 2019

Comité du Concert de la Prélature Arménienne du Canada
Louise Bessette, piano
Alain Trudel, conductor


Petros Shoujounian
Gumri, 1957


» Click here to view the program.



Komitas is considered a prophet and an apostle of the Armenian music. Yes, he was a prophet. As the prophet Moses gave the Law of the Old Testament, he gave the Law of Armenian religious and folkloric music. Yes, he was also an apostle, because one of his missions was to reveal and to declare everywhere the singularity and the profound richness of the Armenian musical tradition.


And now, today, we are grateful to the Orchestre Symphonique de Laval whos administration accepted to perform two pieces of Komitas. One is from his ethno-musical testament and the other is his master piece, the Holy Liturgy. We're also sincerely grateful to our talented community member and composer Petros Shoujounian who put those pieces in an admirable orchestral dimension. And finally, it is a great honor that Mr. Shoujounian accepted to dedicate the orchestral composition of the Holy Liturgy to the 35th anniversary of the ordination of His Eminence Archbishop Papken Tcharian, Prelate of Canada.




Le compositeur arménien Tigran Manssouryan a écrit : Komitas était d'un génie de la lumière, pas seulement pour ses œuvres dont la source était son esprit créateur, mais aussi pour son engagement qui révéla la valeur millénaire du testament musical de son peuple. Komitas était un prêtre de l'Église Apostolique Arménienne, musicologue, hymnologue, ethnomusicologue et compositeur.


Avant le génocide des arméniens, il effectua à travers les villages arméniens un énorme travail de collecte des mélodies populaires, en les sauvant de la disparition. En matière de musique religieuse, Komitas redécouvrit les vrais clés et les modes de la tradition. Ensuite, il commença à composer son chef-d'œuvre, la Divine Liturgie. Il ne put pas mettre la composition de la liturgie dans sa touche finale à cause de son exile avec des centaines figures religieuses et culturelles arméniens et du génocide des Arméniens. Après cette tragédie, il tomba dans une grave dépression. On doit beaucoup à son élève le compositeur Vartan Sargsyan qui édita et mit dans sa forme finale le chef-d'œuvre.



Interview Archive
Komitas | Petros Shoujounian, Piano Concerto based on the solo works of Komitas
Komitas | Petros Shoujounian, Concerto pour piano basé sur les œuvres solos de Komitas
» Click here for videos and images