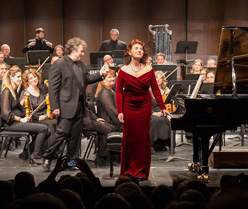 Komitas | Petros Shoujounian, Piano Concerto based on the solo works of Komitas
Bridging the past and the present, Petros Shoujounian took as his starting point two works by Komitas (pseudonym for Soghomon Soghomonian), Seven Dances for Piano and Divine Liturgy, both of which he liberally modified and adapted for symphony orchestra.

In the wake of a nationalist current that spread through Eastern Europe and beyond at the beginning of the 20th century, Komitas sought to transmit the essence of traditional Armenian music in his compositions. His Seven Dances, short pieces for solo piano dated 1911, are a fine example of this process. Here transformed into a concerto for piano and orchestra, they evoke in their original version the characteristic timbres of traditional Armenian instruments, as well as illustrating certain particularities of Komitas' style such as polyrhythms, the use of modes, irregular meter, as well as fourth and fifth chords. Like Bartók, Komitas sought to create a new musical language based in his native country's folk traditions, winning the recognition of several Western composers in his time, especially in France, as the "Father of the Armenian music revival." His work was widely admired by Vincent d'Indy, Fauré, Saint-Saëns, Ravel, and Debussy, among others.


Komitas | Petros Shoujounian, Concerto pour piano basé sur les œuvres solos de Komitas
Traçant un trait d'union entre le passé et le présent, Petros Shoujounian prend comme point de départ deux œuvres de Komitas – soit Sept danses pour piano et la Divine Liturgie – qu'il modifie et adapte librement pour orchestre symphonique.

Dans la lignée du vent nationaliste qui souffle sur les pays de l'Est à l'orée du 20e siècle, Komitas cherche à traduire l'essence de la musique arménienne dans sa musique. Datant de 1911, les Sept danses, courtes pièces pour piano solo, correspondent à cette quête. Ici transformées en un concerto pour piano et orchestre, elles évoquent dans leur version originale les timbres caractéristiques des instruments traditionnels arméniens en plus d'illustrer quelques particularités du style de Komitas telles que la polyrythmie, l'utilisation des modes, les rythmes irréguliers et les accords en quarte et en quinte. Tentant, un peu à la manière de Bartók, de créer un nouveau langage à travers le folklore de son pays, Komitas est reconnu par plusieurs compositeurs occidentaux de son époque, particulièrement en France où Vincent d'Indy, Fauré, Saint-Saëns, Ravel et Debussy admirent le travail de ce « père du renouveau de la musique arménienne ».



VIDEOS ARCHIVE
---
IMAGES ARCHIVE
---
AUDIO ARCHIVE