Music » CD's » Noravank Molinari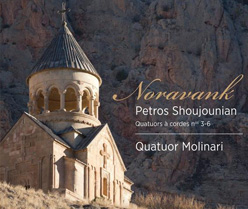 ATMA CLASSIQUE presents String Quartets No 3, 4, 5, 6, Molinari String Quartet
Petros Shoujounian - Composer
To commemorate the 100th Anniversary of the Armenian Genocide.
Quatuor Molinari String Quartet. Click to view the catalog.
For more details, check the Media page
---
Molinari String Quartet in Armenia
November 29th and 30th - December 1st 2016
Armenia concerts, 29th and 30th, click to view.
Invited by Cultural Ministry of Armenia with Collaboration of The Canada Council for The Arts.
Two Concerts and Master classes.
---
Musique de Pologne et d'Arménie
À quelques heures de s'envoler en tournée en Pologne et en Arménie, le Quatuor Molinari vous propose quelques oeuvres qu'il apporte dans ses valises de tournée.
Petros Shoujounian : Quatuor no.3
Ana Sokolovic : Commedia dell'arte
Tigran Mansourian : Quatuor no.3
Justyna Kowalska-Lason : Quatuor no.3 "I find my song" (2013)
18 November 2016 at 7:30.
Address: Conservatoire de musique de Montréal. 4750, avenue Henri-Julien, Montréal, Québec, Canada, H2T
Music