Music » Chamber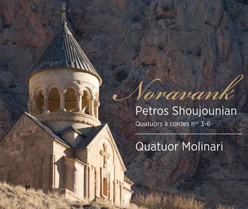 Petros Shoujounian - Composer
To commemorate the 100th Anniversary of the Armenian Genocide.
---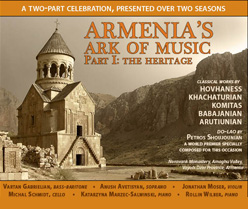 Armenian's Ark of Music. Part 1: The Heritage
Petros Shoujounian - Composer
Fine Art Music Company
Saturday, 4/16/2016, ARMENIA'S ARK OF MUSIC concert at Saint Mark's Church
Sunday, 4/17/2016, ARMENIA'S ARK OF MUSIC concert at the Ethical Society Building
---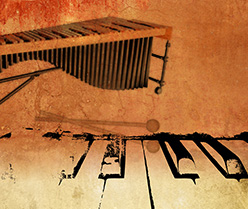 Dzez (1982)
Percussion, piano
Performers: Rober Leroux, percussion; Luise-Andree Baril, piano
Composer's Note: A monk, Mesrop Mashdotz, invented in 405 A.D. an alphabet with 36 characters reproducing the sounds of the Armenian language. An extraordinary invention wich enabled Armenians to take their destiny into their own hands through writing of their unique History and Culture.
---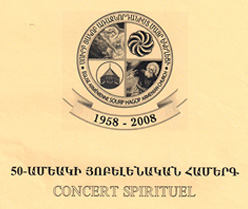 Canon
Music